Current Students
|
Student Services
|
Testing Centers
|
Assessment Center (Testing)
|
Challenge Exams
Challenge Exams for COSC/ITSC 1401 and ITSW 1301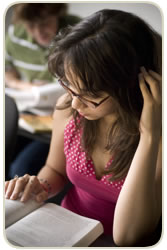 Students who have registered for or completed the course for which they are trying to challenge (either COSC/ITSC 1401 or ITSW 1301) are not eligible to take the challenge exam.
The challenge exam for each course may be taken only once within Lone Star College System.

Students should meet with a Computer Information Technology faculty member to determine if they meet other eligibility requirements.

If the faculty member determines a student is eligible to take a challenge exam, the student will be given a "Prior Learning Assessment Form".

The student will take the "Prior Learning Assessment Form" to the Business Office Counter to pay the non-refundable $25 fee.

The student will then take the payment receipt and the "Prior Learning Assessment Form" to the Assessment Center (CASA Room 104) to take the test.

All students must have a photo ID to take exams in the Assessment Center.

A faculty member will contact the student to let them know if they passed.

If a student passes the exam, appropriate credit will be awarded. The student will not receive a letter grade for the course.