About the Biotechnology Institute

The mission of the Lonestar College Biotechnology Institute is to prepare students for all levels of entry into the biotechnology industry and to meet the industry's workforce and continuing education needs.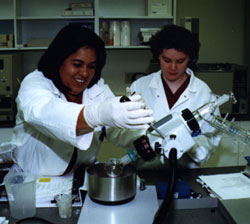 The Institute has four major goals:
* Partnering with the local biotechnology industry to identify and meet its training needs.
* Partnering with the local feeder high schools to recruit students into various entry points in the biotechnology industry.
* Creating shorter, more varied units of biotechnology training in addition to the current two-year associate of applied science degree.
* Partnering with the University Center to articulate with and promote four-year bachelor's degree programs in biotechnology.

Institute History
Lone Star Biotechnology Institute (LSBI) was created because of the college's close proximity to The Woodlands' Research Forest and Houston's biotechnology industry. The Texas Healthcare and Bioscience Institute calculates that there are 1,300 bioscience companies in Texas and that one in every 20 healthcare technology jobs in the U.S. is in Texas. The Woodlands Chamber of Commerce lists 26 healthcare and bioscience-related companies in Montgomery County alone with a total of approximately 1,400 employees. The total number of biotechnology-related jobs grew 250% in Montgomery County from 1990-1999. A significant portion of the biotech industry in Texas is located in this area. The bioscience industry has received much support from the Houston Advanced Research Center (HARC), which was founded in 1982 and provides consortia building, training and technology leadership for area industry.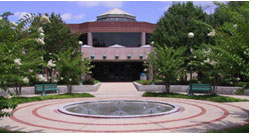 LSC-Montgomery is an attractive resource for biotechnology companies in this area. It was to support the labor pool for these biotechnology companies that LSC-Montgomery began a two-year biotechnology program when it opened its doors in 1995. However, the need is greater than the two-year program can support. There is a large demand for skilled workers at all levels in the biotechnology industry. In order to ensure that there is an abundant biotech workforce, other types of training programs are being designed and instituted. Partnerships with local companies and area schools have been developed to encourage students to pursue careers in biotechnology and train students and workers for jobs in this field. In addition to partnerships, MCBI actively pursues grant funding to access, develop and implement the programs and facilities required for training in the bioscience industry.
LSC-Montgomery understands the economic impact of training individuals in the skills they need to obtain and maintain careers in this growing industry. One of LSBI's partners, Lexicon Genetics, estimates that 100-150 new employees will be hired each year for the next three to five years. It is anticipated that other biotechnology industries in the county will have similar hiring patterns. In order to ensure that current biotechnology companies stay in the area and new companies move their operation to Montgomery County, LSC-Montgomery assumes an active role in providing the training necessary to support the workforce needs. In return, the biotechnology companies in the area support LSBI through faculty and student internships, participation on its Advisory Board, and are valuable resources for laboratory training.