Doctoral Support Group
Mission Statement: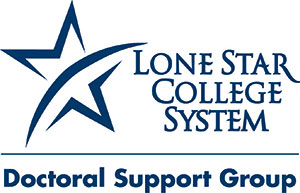 The Lone Star College Doctoral Support Group exists to champion the scholarly achievements of LSCS employees as they pursue doctoral studies. Our mission compels us to provide much needed support and encouragement for our colleagues as they pursue lifelong learning in order to better serve our institution, our students, and our community.
Graduate Expo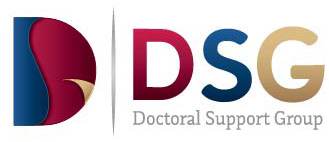 Any LSCS employee interested in obtaining additional information about continuing their education in a Master's or Doctoral program is invited to attend.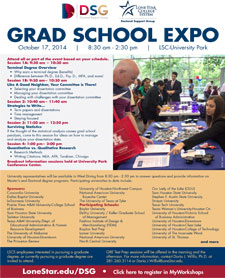 October 17, 2014
8:30 a.m. - 2:30 p.m.
LSC-University Park (West Dining)
RSVP to the event in MyWorkshops
Graduate Expo Sessions
GRE Test Prep sessions will be offered in the morning and the afternoon.
Session 1A: 9:30 a.m. - 10:30 a.m.
Terminal Degree Overview
Why earn a terminal degree (benefits)
Difference between PhD. Ed D., Psy. D., MFA, and more!
Session 1B: 9:30 a.m. - 10:30 a.m.
Like A Good Neighbor, Your Committee is There!
Selecting your Dissertation Committee
Managing your Dissertation Committee
Dealing with challenges with your Dissertation Committee
Session 2: 10:40 a.m. - 11:40 a.m.
Strategies to Write…
Term papers and Dissertations
Time Management
Staying Focused
Session 3: 11:50 a.m. - 12:50 p.m.
Surviving Statistics
If the thought of the statistical analysis causes grad school paralysis, come to this session for ideas on how to manage and analyze your dissertation data.
Session 4: 1:00 p.m. - 2:00 p.m.
Quantitative versus Qualitative Research
Research Methods
Writing Citations
For more information, contact:
Daria J. Willis, Ph.D.
281.260.3114
Daria.J.Willis@LoneStar.edu
University representatives will be available in West Dining from 8:30 a.m. - 2:30 p.m. to answer questions and provide information on Master's and Doctoral degree programs.
Sponsors
Participating Schools
Grad School Expo Committee
Dr. Daria J. Willis
Ms. Terrae Johnson
Dr. Keri Rogers
Dr. Tameka Williams-Bruce
Ms. Debbie Esparza
Dr. Alicia Friday
Dr. Jennifer Travis
Professor Seth Batiste
Dr. Jackie Thomas
Dr. Kenyatta Phelps
Dr. Zack Coapland
Dr. Cherry Sawyerr
Dr. Debra Harper-LeBlanc
Ms. Laurie Passmore
Professor Mignette Dorsey