Doctoral Support Group
Mission Statement: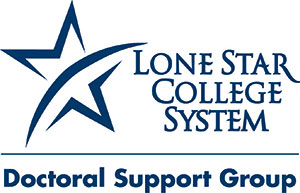 The Lone Star College Doctoral Support Group exists to champion the scholarly achievements of LSCS employees as they pursue doctoral studies. Our mission compels us to provide much needed support and encouragement for our colleagues as they pursue lifelong learning in order to better serve our institution, our students, and our community.
Graduate Expo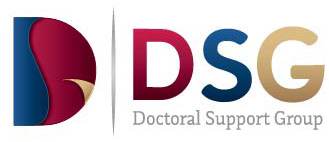 Any LSCS employee interested in obtaining additional information about continuing their education in a Master's or Doctoral program is invited to attend.
October 18, 2013
9 a.m. - 2 p.m.
LSC-University Park (West Dining)
RSVP to the event in MyWorkshops
GRE Test Preparation:
Hosted by Princeton Review and Kaplan
South Sydney Room
10:00 a.m. - 10:45 a.m.
11:00 a.m. - 11:45 a.m.
12:00 p.m. - 12:45 p.m.
1:00 p.m. - 1:45 p.m.
Session 1: 10 a.m. - 11 a.m.
Terminal Degree Overview
Why earn a terminal degree (benefits)
Difference between PhD., Ed D., and Psy. D.
Session 2: 11:15 a.m. - 12:15 p.m.
Beginning and Completing the Doctoral Degree
Choosing a Topic, Research Methodology, LSC-IRB Process, Work-Life Balance
Session 3: 12:30 p.m. - 1:30 p.m.
Life after the Degree
Managing Student Loan Debt, Publishing, Conference Presentations
For more information, contact:
Daria J. Willis, Ph.D.
281.290.5059
Daria.J.Willis@LoneStar.edu
University representatives will be available in West Dining from 9 a.m. - 2 p.m. to answer questions and provide information on Master's and Doctoral degree programs. Participating universities to date include:
Texas A&M International University
Texas Southern University
Houston Baptist University
Schreiner University
University of Texas San Antonio
Sam Houston State University
University of the Incarnate Word
Texas Women's University
Texas A&M University-Commerce
Texas A&M University
University of Southern California
University of Houston-Clear Lake
Capella University
University of Phoenix
University of Houston-Victoria
Our Lady of the Lake University
National American University
Dallas Baptist University
University of Alabama
University of Houston-Downtown
Concordia University Texas
Prairie View A&M University
University of North Texas
University of Texas at Tyler
Grand Canyon University
University of St. Thomas
University of Houston-
Northwest Campus
And More!
DSG Leaders
LSC-System Office:
Dr. Keri Rogers
Dr. Tameka Williams-Bruce
Debbie Esparza
LSC-CyFair:
Dr. Ruben A. Howard
LSC-Kingwood:
Dr. John Barr
LSC-Montgomery:
Dr. James W. Lee
LSC-North Harris:
Professor Seth Batiste
Professor Jennifer Travis
LSC-Tomball:
Dr. Jackie Thomas
LSC-University Park:
Dr. Suzanne Weatherly
Dr. Cherry Sawyerr
Dr. Zack Coapland
Dr. Daria Willis