Current Students
|
Student Life
|
LSC-CyFair Student Life
|
LSC-CyFair Sports
|
Men's Basketball Team
Our Mission Defined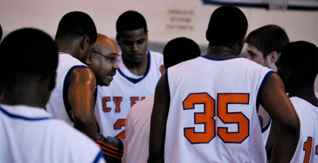 The LSC-CyFair Menís Basketball team attempts to promote the LSC-CyFair Fighting Duck spirit by competing in athletics with other community colleges and striving to improve the academic opportunities of its players (students). In doing so, the team attempts to model professionalism, dedication to the community and unity throughout all of its operations.
Practice Schedule
Tuesday, Wednesday, and Thursday
5:00 - 7:00 p.m.
Game Schedule
vs. HCC-Northeast
Friday, March 8
7:00 p.m.
Salvation Army Boys and Girls Club
2600 Aldine Westfield
Houston, TX 77093
vs. HCC-Southwest
Friday, March 22
7:00 p.m.
13225 FM 529
vs. SHSU Club Team
Saturday, March 23
1:00 p.m.
Sam Houston State
Qualifications and Restrictions
Please contact Coach Norris for details about tryouts.
In order to participate on the 2012-2013 Basketball Team, all students must:
Have a valid student ID card;
Be registered and cleared by Coach Norris prior to tryouts;
Be enrolled in at least nine (9.0) semester hours of college level courses;
Be able to attend all practices. Students should arrange their class schedule around these times.