Academic Departments
|
LSCS Music Departments
|
LSC-Montgomery Music Department
|
Ensembles
|
Symphony Orchestra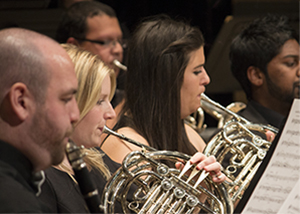 The LSC-Montgomery Symphony Orchestra is the first and only orchestra in the Lone Star College System. The ensemble is open to all strings, woodwinds, brass, and percussion students in the music department, as well as to non-majors and members of the community. With an emphasis on standard orchestral literature of the 18th and 19th centuries, the orchestra shares two concerts a semester with other instrumental groups on campus.
The ensemble meets Monday evenings 7-9:30pm in H-119 in the Music Building.
Most string players in the Symphony Orchestra also opt to participate in
String Ensemble
(Mondays, Wednesdays, and Fridays 12:00-12:50pm).
For more information, contact Dr. Isomura, Director of Orchestras,
Eiki.Isomura@lonestar.edu