ESOL & Languages
Please click on the "Languages Schedule" link on the right to see the hours at which tutoring in ESOL & other languages is available.
What Our Tutors Can Do for You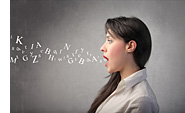 During the fall and spring semesters, we provide regular tutoring services for the following languages:
ESOL (English for Speakers of Other Languages)
ASL (American Sign Language)
In fall and spring we sometimes also provide tutoring in Spanish.
Other Services
The Academic Success Center presents student success seminars, exam jams and other learning activities. Please see the campus closed-circuit TV, your instructor, and campus bulletin boards for times, dates and locations.
Other Resources
Our language labs have a range of software to facilitate study of the following languages: Arabic, ASL, Chinese, ESOL, French, German, Japanese, Persian and Spanish.