Current Students
|
Student Services
|
Learning Centers
|
LSC-Kingwood Learning Center
|
Exam Jam
December 6, 2013
| | |
| --- | --- |
|  11:30 am - 2:30 pm |  Student and faculty registration in the PAC |
|  12:30 - 3:30 pm |  Campus-wide review sessions for finals |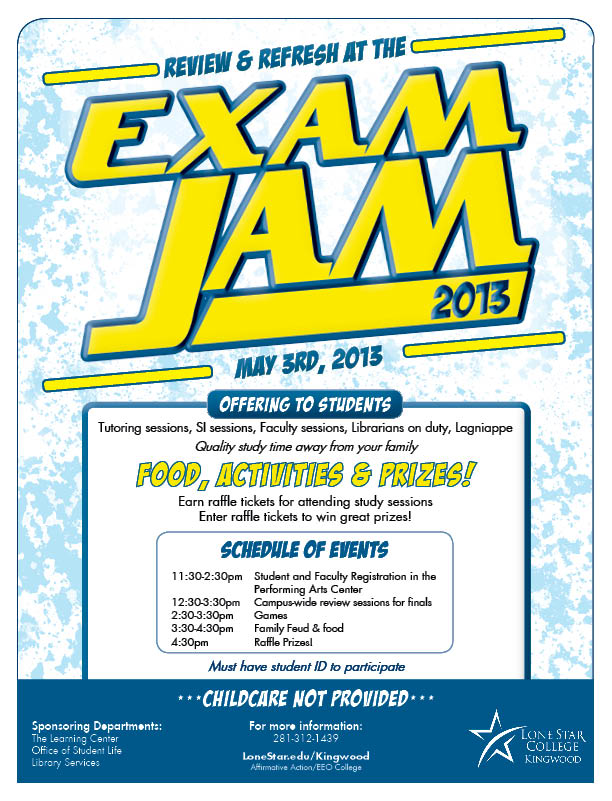 From 12:30 pm - 3:30 pm, students will have an opportunity to meet with faculty members, SI leaders and tutors for one last review session before final exams. The sessions will give students a final chance to understand what they should be studying to be successful on their final exams. The benefits will be immense, and the rewards go beyond an outstanding academic experience!
Students attending review sessions will get one prize ticket for each hour spent in a professor-led session, an SI-led session and/or a tutoring session. Then, students can submit their tickets for a chance to be chosen as a winner for a variety of great prizes, including a Kindle and special gift cards. Students who take advantage of all three review times have the best chance to win some valuable prizes. Students must be present to win raffle prizes!
Also, a variety of carnival games will be underway from 2:30 pm – 3:30 pm for those who want to relax and have some fun. The library will be open until 4:30 pm for those students who want a place to study or work on the computer.
All students that register for Exam Jam will be able to get free food at 3:30pm courtesy of the Office of Student Life! In addition, at 3:30pm we will have the Family Feud, a game in the PAC theater where students and faculty compete against one another in teams!
Exam Jam Review Schedule
See which of your classes are holding review sessions!
TBD
Students are required to bring a valid Lone Star College student ID to participate. Child care will not be provided.
Please call 281-312-1439 for more information!