Academic Departments
|
LSCS Respiratory Care Departments
|
LSC-Kingwood Respiratory Care Department
|
HSRT Information
Respiratory Care Program
Login to Print, Change or Delete a Registration
What is the HSRT exam?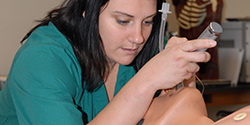 The Health Science Reasoning Test (HSRT) is an evaluation tool that must be taken in order to be considered for entry into the Respiratory Care program. The HSRT is a 33 question exam that requires you to read medically related information and respond to questions based on the reading. All information needed to answer the questions is in the reading, so there is no need for Respiratory Care background information. THEA, SAT or ACT study guides may help you prepare for the exam.
Programs Testing Dates
Spring 2013 Program
Testing October 1- November 15
Day
Kingwood Campus
Summer 2013 Program
Testing March 1 - April 15
Evening
Kingwood Campus
Fall 2013 Program
Testing June 1 - July 15
Day
Health Professions Building
Spring 2014 Program
Testing October 1- November 15
Day
Kingwood Campus
Testing Center Hours
Spring/Fall Hours
Monday - Thursday: 7:30 am - 9:00 pm
Friday: 7:30 am - 4:30 pm
Saturday: 8:00 am - 4:30 pm
Sunday: CLOSED
Summer Hours
Monday - Thursday: 8:00 am - 8:00 pm
Friday: CLOSED
Saturday: 9:00 am - 2:00 pm
Sunday: CLOSED
Respiratory Care Pre-Entrance HSRT Exam
The HSRT exam is computer based.
The HSRT exam may be taken only once per application period.
If test is taken multiple times during the application period (including another campus) the first score will be used for ranking.
The HSRT exam contains 33 multiple choice questions.
The test is not a timed test; many complete the test in one hour or less.
Specifically designed to measure the skills dimension of critical thinking.
Critical thinking questions in health sciences and clinical practice contexts, and presumes no specialized technical knowledge.
Testing Fee
$15.00 Paid to the Kingwood College Business Office
This fee must be paid before taking the test (check or cash)
Payment can be made on the day of the test
Materials Needed for the Test
Picture Identification
PAID RECEIPT from Kingwood College Business Office
Material Provided at the Test