Academic Departments
|
LSCS Music Departments
|
LSC-Montgomery Music Department
|
Ensembles
|
Symphonic Band
The Symphonic Band is LSC-Montgomery's largest instrumental ensemble and is comprised of the most talented instrumentalists on campus. Performing diverse and challenging wind literature from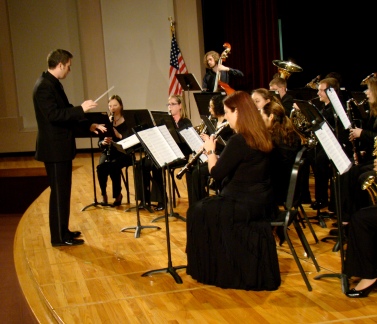 all time periods and styles, the Symphonic Band presents two concerts each semester in addition to providing music for LSC-Montgomery May Commencement Exercises. The Symphonic Band serves a dual purpose of providing music majors with a quality large ensemble experience and non-majors with the ability to continue the enjoyment of performing great music. Whether playing marches, orchestral transcriptions or traditional wind band literature, the ensemble focuses on performing music with the utmost in accuracy and musicality while presenting an enjoyable and moving concert-going experience for all audience members.
Repertoire from the current Spring 2010 semester includes Irish Tune from County Derry by Percy Grainger, Ralph Vaughn Williams' English Folk Song Suite, Folk Dances by Dimitri Shostakovich and Samuel Hazo¹s SEVENS. The Band is open to all dedicated instrumentalists with previous performance experience from the LSC-Montgomery campus and surrounding communities. The Symphonic Band meets from 1:00-2:20 p.m. on Mondays and Wednesdays.

For more information, contact Kris Chapman, Director of Bands, kris.chapman@lonestar.edu.