Office of Technology Services
|
OTS Initiatives


Information Security
---
The Office of Technology Services (OTS) is working on a project to improve information security at Lone Star College System (LSCS). Improving information security is not just about firewalls and virus protection. At the minimum, information security is about raising user awareness, maturing security related business processes and setting up of a continuous improvement process for information security.
To accomplish these goals, OTS is working on defining an Information Security Management System (ISMS). The ISMS model chosen by OTS is based on the ISO 27000 family of information security standards (International Organization for Standardization or ISO is the world's largest developer and publisher of International Standards).
The ISO 27000 model uses the Plan-Do-Check-Act (PDCA) cycle to establish a formal and documented process to improve information security. To ensure the ISMS framework meets industry best practices for information security, OTS has partnered with Verizon Business and Gartner Research. In addition, OTS has also reached out to all areas of Lone Star College to seek their input on the current state of information security. This cross department coordination and support is important because information security is not just about OTS. Information security is everybody's concern and everybody's responsibility.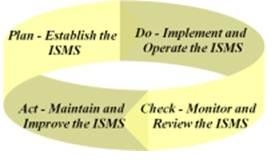 Planning
---
Strategic planning is required if you want to build a world-class organization. In January of 2009, a group of faculty, staff, students and administrators got together to create a 3 year Technology Strategic Plan in alignment with the each of the College's Strategic Plans.
This plan was not created for OTS but for all technology goals across the system, meaning that not every initiative actually belonged to OTS, some belonged to others that are responsible for providing that particular service.
The Technology plan has been instrumental to keep technology initiatives focused on the mission of the System and helps show how technology is now integral to the success of LSCS. Because of this plan we have implemented best practices, change manage and a service catalog.
The strategic planning team is glad to report that last summer, we completed our first review of the LSCS Technology Plan and we either met or exceeded the established deadlines for each strategic initiative.
Technology Innovation
---
The Office of Technology Services (OTS) is dedicated to providing technology equipment and services that enhance the Lone Star teaching and learning environment. Whether using emerging technologies or current technologies in new or innovative ways, OTS supports pioneering faculty in the classroom. The following is a highlight of one of the exciting initiatives at Lone Star:
Remote Signing:
Leveraging its existing video teleconferencing system, the Office of Technology Services is offering a service for Lone Star's Disability Services area that will touch 80+ hearing-impaired staff and students. The new service provides interpreter services via a laptop and high-definition web camera, using a microphone to listen to the instructor or presenter. According to Sandi Patton, director of Disability Services, "Our goal is to work with our 80+ students and staff who are deaf using this technology. It is a low incidence, high cost population, so we anticipate making an impact on the budget of Disability Services for the system."